Main » 2011 » Tháng 4 » 22 » phần mềm longman pronunciation dictionary 3rd edition
---
1:53 AM
phần mềm longman pronunciation dictionary 3rd edition
Need help with pronunciation? The Longman Pronunciation Dictionary:
* Helps students with over 225,000 pronunciations in both British and American English using the International Phonetic Alphabet
* Helps students with intonation by showing the stress patterns of thousands of compounds and idioms
* Features user-friendly graphs showing the preferred pronunciations of British and American speakers, based on extensive research by Professor Wells

NEW - now with the Longman Pronunciation Coach CD-ROM

* Students can listen to the pronunciation of all entries in British and American English, then record and check their own pronunciation
* Self Study Lab - Students can learn the International Phonetic Alphabet and practise their pronunciation with thousands of interactive exercises and feedback from Professor Wells
* Teachers' Resource Centre provides you with downloadable exercises for use in class

Out now!

Visit the Longman Dictionaries site, with three video clips of me talking about the new edition.
What s new in LPD3?

The third edition continues the excellent tradition of the previous editions, but with extensive additions and improvements.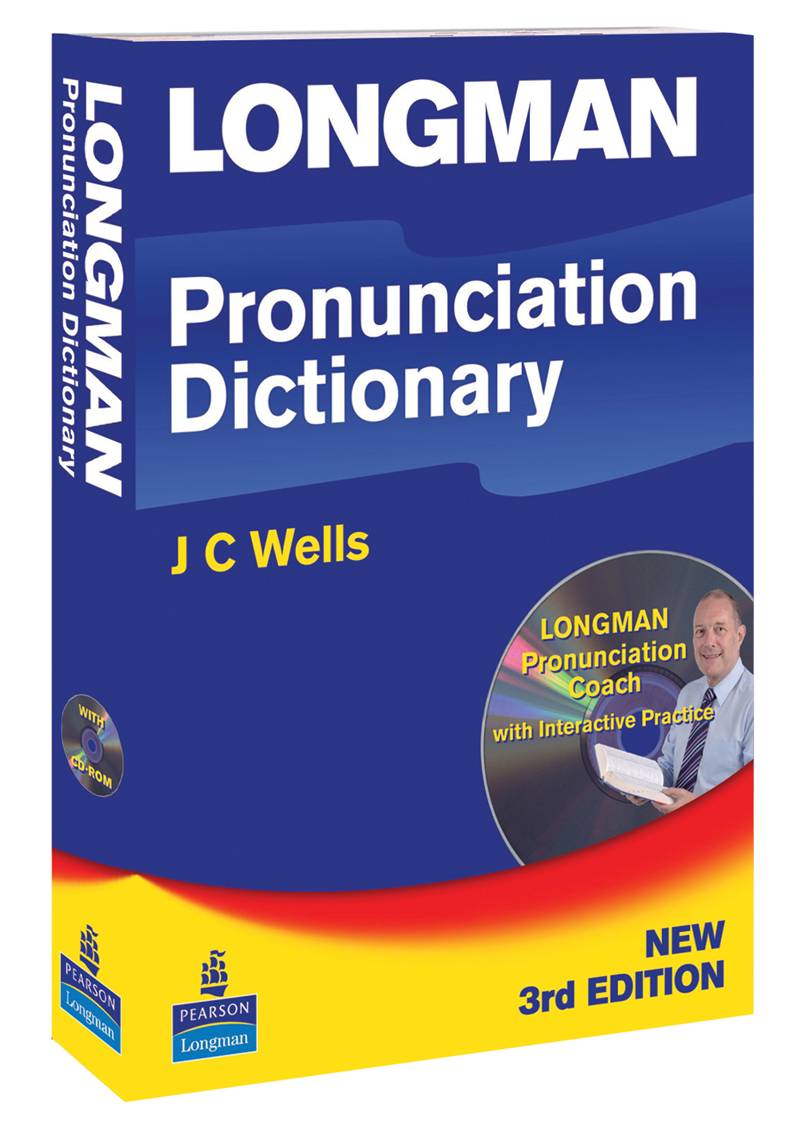 * 3000 added headwords

* results of two new opinion polls
* CD-ROM with the Longman Pronunciation Coach

New headwords


Among the new headwords are


* proper names, e.g. Athenry, Aung San Suu Kyi, Bussell, Cruyff, Ericsson, Obama, Rowling, Sentamu, Tehachapi, Titchmarsh, Verizon, Whampoa, Zellweger;

* terms relating to the internet, e.g. blogging, chatroom, digicam, eBay, Facebook, Google, podcast, Wikipedia, YouTube;
* and thousands of other assorted new words, e.g. Asbo, bird flu, Botox, chav, latte, nanobot. Among words beginning fa-, for instance, you will now also find faddy, fade-in, ~censored~-hag, fairness, fair-to-middling, fakie, falling-off, falling-out, fan-assisted, fanciable, fancy-dress, Fannie Mae, fantasist, farthermost, fat-free, fault-tolerant, fava.

As in previous editions, non-English words come with the foreign-language phonetics as well as an appropriate anglicization: among the new additions are Abu Ghraib, al Qaeda, haram, niqab, and Sharm-el-Sheikh (Arabic), Ahmadinejad (Farsi), Benfica (Portuguese), Federer (German), gaijin and sudoku (Japanese), kimchi (Korean), mojito (Spanish), Putin (Russian), qi and Qingdao (Chinese), Sarkozy and Taizé (French), Terfel (Welsh), Tórshavn (Faroese).

Preference polls

In addition to the pronunciation preference polls reported in the previous edition, there are now also polling results from two more polls, both conducted on-line:


* for AmE, a survey conducted by Prof. Bert Vaux, including among others the words almond, asterisk, caramel, chromosome, Presley, Thanksgiving and thespian;

* for BrE, a survey conducted by Pearson Education and the author, including among others the words contribute, dissect, kilometre, liquorice, omega, tinnitus and tune. (more...)



CD-ROM

with the Longman Pronunciation Coach

The CD-ROM bundled with the dictionary includes


* spoken versions of every headword, in BrE and AmE

* the entire text of the dictionary, on-screen
* a Self-Study Lab (interactive exercises with feedback)
* a Teachers' Resource Centre with worksheets and suggestions for classroom activities
S
IÊU TIẾT KIỆM

:

Nhằm giảm tối đa chi phí cho khách hàng, thay vì phải mua 5 VCD riêng biệt (tùy chọn) với tổng giá trị là

5

0.000Đ

, chúng tôi sẽ giúp các bạn tiết kiệm chi phí bằng cách nén vào trong 1 DVD với giá chỉ còn

20.000Đ.
Mã số đĩa: VCD 312: phần mềm Longman Pronunciation Dictionary (1 VCD)
Giá: 10.000 VNĐ/VCD
Để đặt mua đĩa này. Bạn vui lòng click vào đường dẫn dưới để đăng ký:
CHÂN THÀNH CẢM ƠN BẠN ĐÃ ỦNG HỘ WWW.KIENTHUCSINHVIEN.COM
Tài liệu học anh văn | Views: 1916 | Added by: tailieu_hoctap | Rating:

0.0

/

0
Statistics
---
Tổng cộng 1
Khách 1
Người dùng 0